The need to transfer data between county council systems is increasing in line with the digitization of the public sector. To meet this need in an efficient way, the idea of Fint Flyt was born.
County councils currently process large amounts of data ranging from applications, permits, referrals, consents, reports, etc. In most cases, this data must be transferred to other systems such as various archive systems or financial systems for invoicing and payment. County authorities use a large number of different specialist systems that do not necessarily speak the same language.
Previously, integrations have been created through the FINT platform for each type of data transfer. Fint Flyt simplifies this process by allowing the user to do the actual data transformation themselves without involving a developer. This will then be customized to the destination it is to be forwarded to.
Examples of use:
eGrunnerverv (Nye Veier with digital land acquisition | Nye Veier AS) now sends land acquisition cases directly to the archive system (Elements) through integrations set up in FINT Flyt.
Viken (Viken County Council) now sends cases from its form solution directly to the archive system (Elements) through integrations set up in FINT Flyt.
Supported archive systems:
Elements
Public 360
WebSak
Gains:
Major time and cost savings when setting up new integrations
Simplify and reduce the number of integrations
Increase information flow
Enable non-technical personnel to establish integrations
Provide a clear and simple tool for data transformation
Adapt to external systems for receiving and sending data
Support for value conversion
Target group:
FINT FLYT is designed to transfer information from one file system to another. Transferring information from eGrunnerverv to the county council's archive is a good example of areas of application.
Architecture sketch for integration with archive: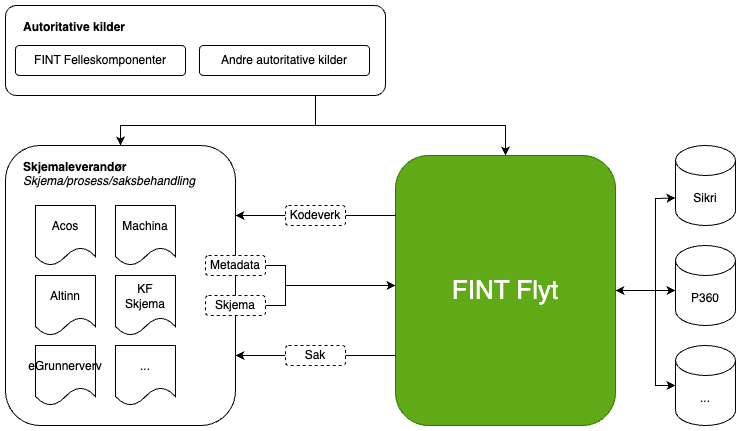 Benefits:
Compared to setting up an integration programmatically, Fint-Flyt will provide significant time and cost savings when setting up and maintaining new integrations.
Domain experts have the ability to establish and maintain integrations without involving technical staff.
By gathering several integrations and county offices in one platform, you will benefit from the platform's functions. This can include, for example, error correction tools, data conversion setups, metrics and statistics. The more people who use the platform, the more value you get back for the resources invested in it.
How to book the service?
See the section "Basic information" for a more detailed description of what preparations you need to make and what information we need to set up the service for your organization. Contact Vigo IKS here.